12 April 2015
We want to say a huge thanks to all our brilliant runners at the Brighton Marathon on Sunday - you've done Team Panda proud!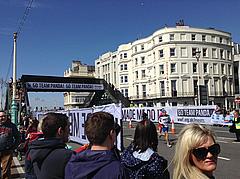 Around 18,000 people took part in the event altogether, cheered on by crowds of over 100,000 as they raced, jogged or cantered through the town and along the Brighton and Hove seafront (several times) during the 26-mile course.
We'll have reports and photos from the Brighton run soon...
Find out more about taking part in this kind of event to help raise money for WWF
.
http://www.wwf.org.uk/news_feed.cfm?uNewsID=7535